We are taking bookings for dog grooming at
Happy Paws @ B63.
Happy Paws @ B63 is a training salon,  appointments are tailored to the teaching and assessment requirements of the course so may be longer than appointments offered in a commercial salon. Currently, we are grooming on Wednesdays and Thursdays. We have two appointment blocks per day 09:00-12:15 and 13:15-16:00 and can take up to 6 dogs per booking dependent on breed/style. *Please note these hours are term time only and subject to change depending on curriculum requirements. 
Pricing is determined by the coat condition, size, breed and temperament of your dog. The prices displayed below offer a guide only and final price will be confirmed when collection occurs.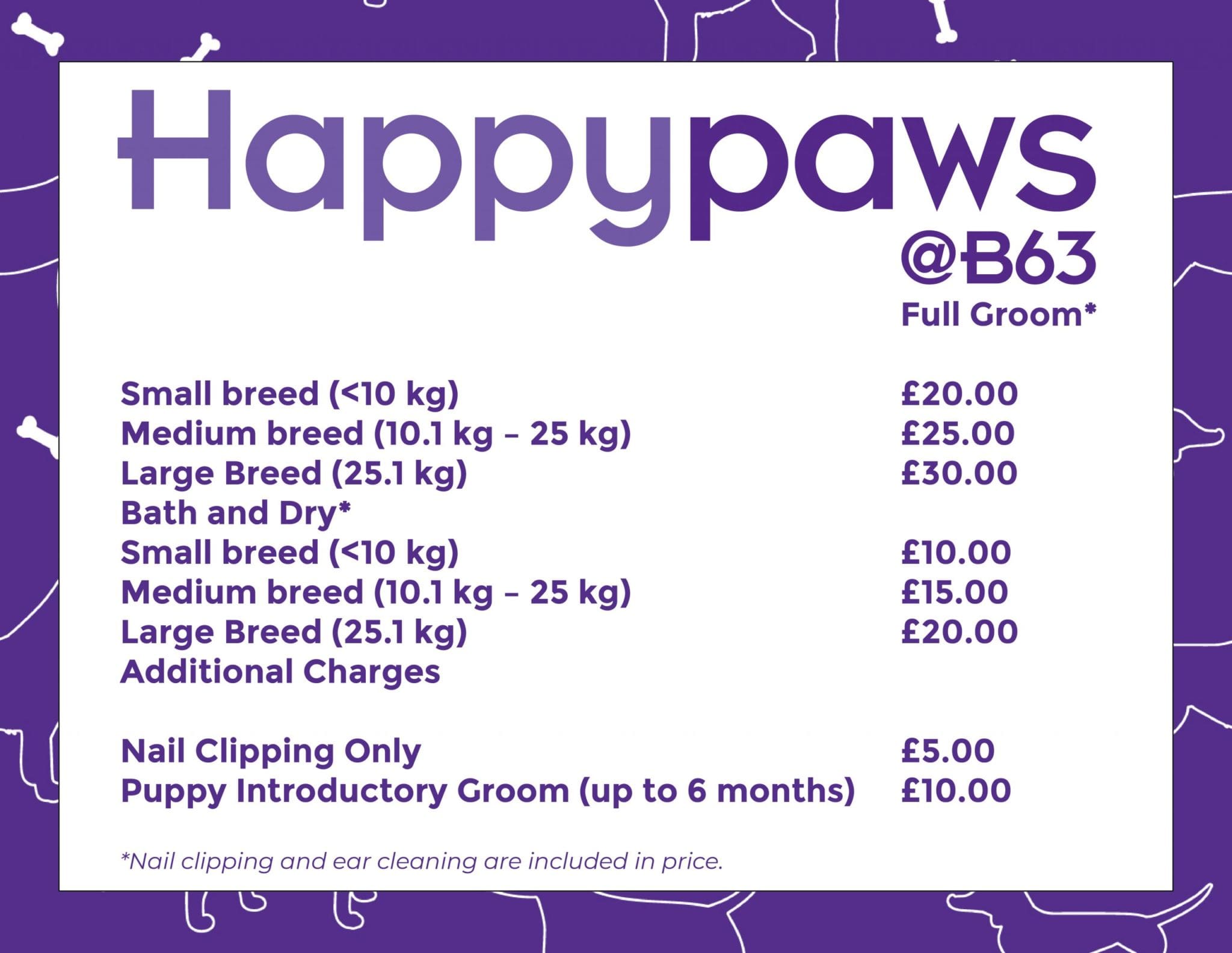 We welcome all breeds of dog (except those listed on the Dangerous Dogs Act 1991) but due to exam board requirements particularly require breeds such as:
Cocker spaniels with feathering
King Charles Cavaliers with feathering
Wool Mix breeds such as Cockapoos, Cavachons etc
Drop Coat breeds such as Shih Tzu's, Lhaso Apso's
Hand stripping breeds such as Border Terriers
Breed standard Toy/Miniature Poodles, Schnauzers, Wire Fox Terriers, West Highland White Terriers
We are currently able to offer hand stripping at a limited capacity – please enquire directly with happypaws@halesowen.ac.uk for further information and prices.
An additional charge of £5.00 per 15 minutes of de-matting that needs to be conducted on any dog will be charged.
An additional fee will be charged for late collections (£5.00 if more than 20 minutes late for collection) and a 50% charge applied for no-show.
Please email happypaws@halesowen.ac.uk , call 0121 602 7650 or contact us on our Happy Paws Facebook Page to make enquires.
We look forward to welcoming your fur family to Happy Paws.