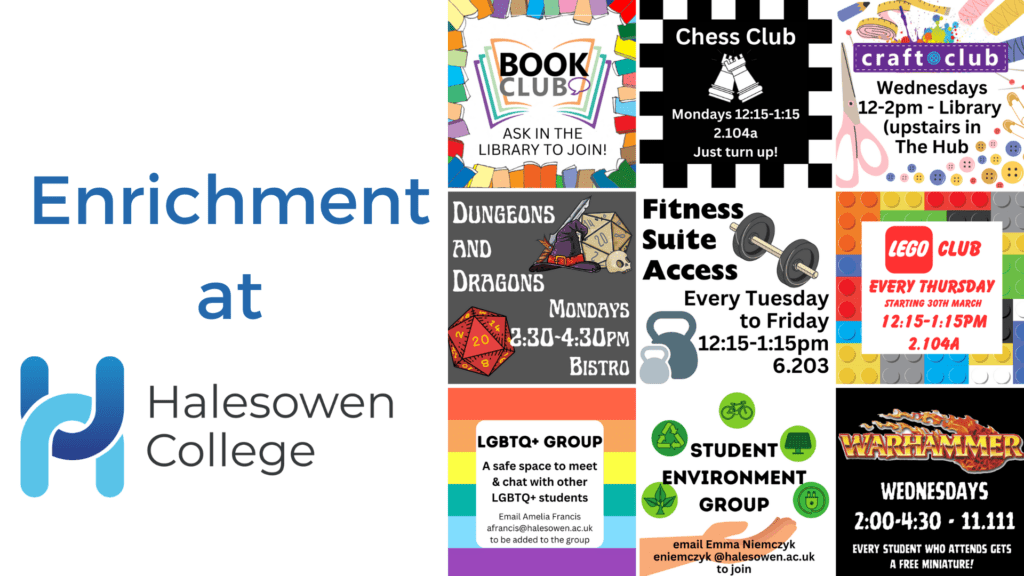 ---
College life is about more than just studying. As a student, you can use your time and our facilities to explore new interests, enhance your wellbeing and develop your employability skills.
The Animal Café takes place in The Hub with the meetings being promoted on Microsoft Teams. Interacting with animals has a calming and relaxing effect, so the café aims to improve wellbeing and offers a chance for students to meet friendly dogs and hold smaller animals such as guinea pigs, rabbits and rats. Students will also get the chance to meet our Multi-faith College Chaplain who can offer support to those of all faiths and none.
Trips
Each faculty runs trips and visits to develop skills and provide enjoyable and fulfilling experiences for students.
Health and Fitness Activities
The Fitness Suite is open for all students when not needed for curriculum use. Students can access professional inductions and training advice from the supervising personal trainer.
Recreational sports sessions are offered for all students. Activities vary at different times of the year but regularly include badminton, table tennis and basketball.
Volunteering
Whatever your experience, whatever you're good at or want to gain experience in, we're always looking for volunteers. Getting involved offers great opportunities to learn new skills, gain recognised qualifications, enhance your personal and professional development and improve your CV.
Fitness Trail
If you have a free period or are stuck for what to do at lunch time, take a walk around our fantastic Fitness Trail to clear your mind and keep fit.
Dungeons and Dragons Club
We offer a Dungeons and Dragons Club to our learners. This allows students to make friends with similar interests outside of their course, and build on their confidence, leadership and team working skills. 
We have an online group for our Book Club where students can share book recommendations and reviews, and suggest new titles for the Library. The Craft Club welcomes learners to share and discuss different crafts and learn new hobbies. Reading and crafting are both good for mental wellbeing as they reduce stress and encourage empathy by allowing for human connection to be formed with others. Reading increases literacy and comprehension skills which are vital for all careers. 
We have a thriving LGBT+ group offering a private, safe space for anyone belonging to the LGBT+ community, including transgender students or those questioning their gender identity. This is a chance to meet likeminded peers who share similar experience, and get involved with events such as Pride Month and LGBT+ History Month.
Our Green group is for those passionate about the natural world and preserving our environment. Learners can share interesting resources and articles, and share ideas for how to reduce waste and become more eco-friendly.
ESOL Reading Buddies
Whether you are an ESOL student who wishes to improve English literacy and comprehension skills, or a student who wants to help others, our Reading Buddies group may be for you. This group encourages students across various different subjects and abilities to come together with our ESOL students, improving their understanding of spoken and conversational English, local dialects and slang and making them feel a part of the wider college community. The students who attend gain confidence speaking with others and make new friends with different experiences to their own.
---