Epilogue – Art and Design Show
NEWS
Halesowen College will be hosting a special end of year show for students called Epilogue on Wednesday 21 June. 
Art and Design, Graphics, Fashion, Textiles, Photography and Creative Media students will be coming together to showcase all their work. 
Visitors will be able to see a wide range of creative work from students and prospective students can come along and get lots of inspiration for September 2023. 
Fashion students will have two catwalk shows, one at 5.30pm and one at 6.30pm, taking their creations from the classroom to the runway. 
Leanne Lewis, Head of Division for Art and Design at Halesowen College, said: "This is a major event and exhibition for our students which will showcase all their hard work throughout the year. 
"There will be some fantastic designs and creative art work."  
Photos show students preparing their work for the show.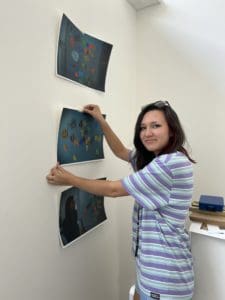 Tickets are free and to book visit www.halesowen.ac.uk