Inspirational Halesowen teaching assistants honoured in prestigious Pearson national teaching awards
NEWS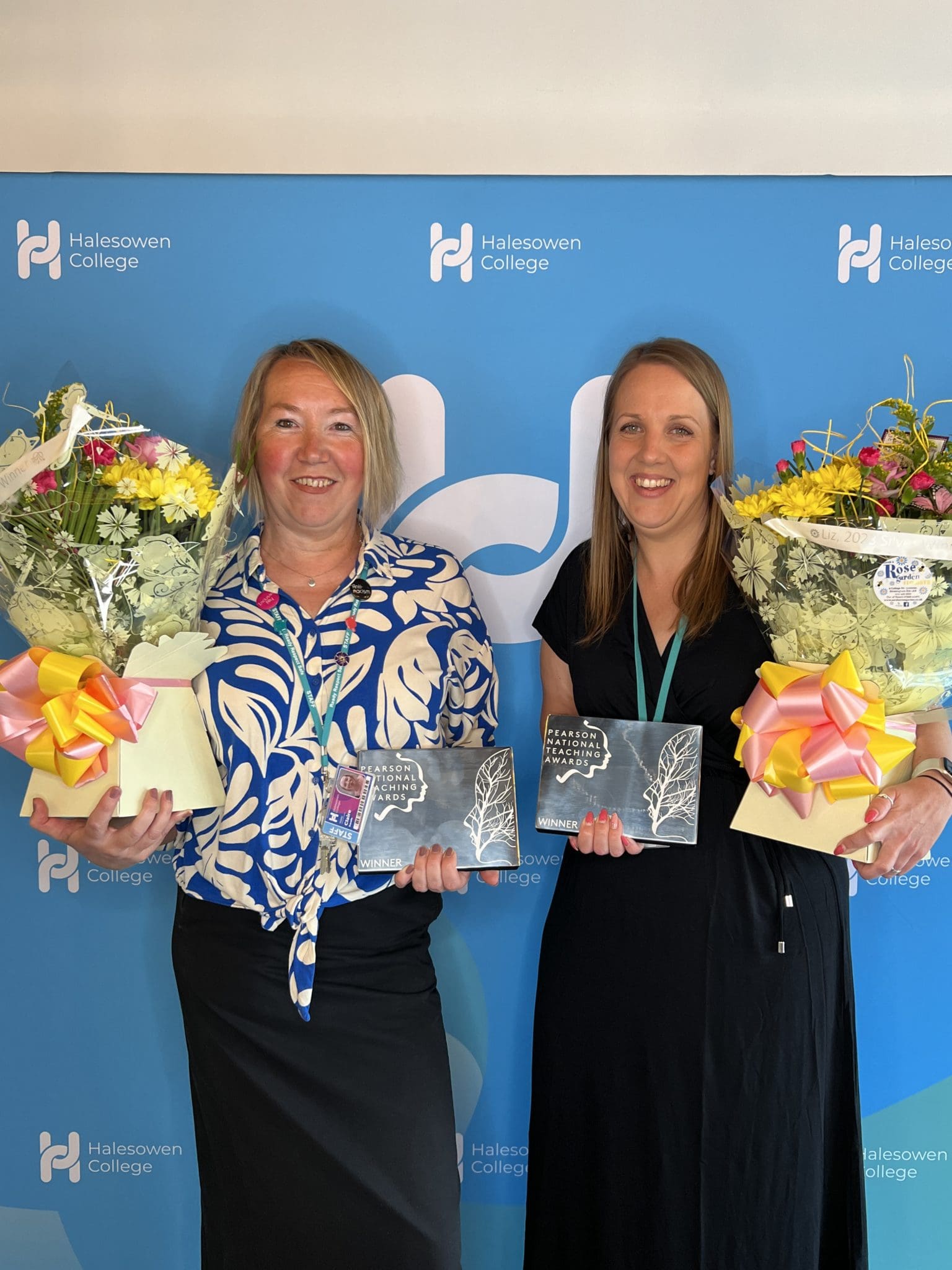 Inspirational Halesowen teaching assistants honoured in prestigious Pearson national teaching awards
Two teaching assistants from Halesowen College have been selected from thousands of nominations to win a Pearson National Teaching Silver Award.
Claire Swain and Liz Barber have been honoured with a Silver Award for Teaching Assistant of the Year for their outstanding commitment to changing the lives of the young people they work with every day.
Both Claire and Liz support students every day in College in and out of the classroom with their studies, confidence, motivation and resilience.
Both are dedicated to their roles and go above and beyond to make sure their students have the best support and experience in College.
Both Claire and Liz have now been shortlisted to win one of just 16 Gold Awards, which will be announced and celebrated at a gala ceremony in London on 25 November and televised on the BBC, with winners showcased on The One Show.
The honours have been announced on National Thank a Teacher Day, an annual event celebrating the role of educators across the UK for the valued role they play in communities and shaping young people. This year, students were joined by celebrities including Sir Michael Morpurgo, Edith Bowman, Bobby Seagull, Ore Oduba and Nadiya Hussain to mark their teachers' achievements.
Joanne Williams, Interim Principal at Halesowen College, said: "A massive congratulations to Claire and Liz for the outstanding work they do at College for our students.
"They are both dedicated to their role and they change the lives of students every day with their support, advice and care. We are delighted they have received these silver awards."
The Pearson National Teaching Awards is an annual celebration of excellence in education run by the Teaching Awards Trust, an independent charity now in its 25th year, that recognises the life-changing work that takes place in education, highlighting the vital role educators play and the work that's delivered in schools and colleges every day.
Michael Morpurgo, author, former Children's Laureate, and President of the Teaching Awards Trust, says: "I am inspired by the devotion of teachers and the huge impact they have on the lives of the young people they tutor, support, encourage and motivate day in and day out.  The valuable role they play both inside and outside the classroom has inspired generations of young people across the country to achieve their potential.   I am delighted to congratulate the winners of the 2023 Awards and thank them all for the amazing contributions they have made to our communities."
Sharon Hague, Senior Vice President of Schools at Pearson UK, says: "We would like to congratulate today's Silver winners on their incredible achievements.  We can't underestimate the huge contribution schools make to our young people's lives and Claire and Liz are an inspiring example of the positive impact an individual can have on pupils and communities."
ENDS
Further information, interviews and images: Julia Edmunds on 0121 602 7777.
Notes to Editors:
About the Awards:
The Pearson National Teaching Awards are open to every early years setting, school and college across the UK. The awards were established by Lord Puttnam CBE in 1998 and are managed by the Teaching Awards Trust, an independent charity. The vision of the charity is to recognise and celebrate excellence in education. It does this through its public-facing 'Thank A Teacher' campaign www.thankateacher.co.uk, and through the Pearson National Teaching Awards www.teachingawards.com #teachingawards #thankateacher
About Pearson:
At Pearson, our purpose is simple: to add life to a lifetime of learning. We believe that every learning opportunity is a chance for a personal breakthrough. That's why our c.20,000 Pearson employees are committed to creating vibrant and enriching learning experiences designed for real-life impact. We are the world's leading learning company, serving customers in nearly 200 countries with digital content, assessments, qualifications, and data. For us, learning isn't just what we do. It's who we are. Visit us at https://plc.pearson.com/en-GB
About Michael Murpurgo:
Michael Morpurgo is one of Britain's best-loved writers for children. With a writing career that spans four decades, he has written over 100 books, selling more than 5 million copies in the UK and over 35 million worldwide. A former Children's Laureate, Michael has won countless prizes, including the Smarties prize, the Blue Peter Book Award and the Whitbread Award, and was awarded an OBE for Services to Literature. Michael was also awarded an MBE in 1999, along with his wife Clare, in recognition of their work in founding Farms For City Children, a charity that has enabled 100,000 children to visit the charity's three farms over the last 40 years.
The 2023 Pearson National Teaching Award Categories are: 
The Award for Excellence in Special Needs Education, supported by Logitech
The Award for FE Lecturer of the Year, supported by DfE
The Award for FE Team of the Year, supported

by DfE

The Award for Headteacher of the Year in a Primary School, supported by Hays Education
The Award for Headteacher of the Year in a Secondary School, supported by Hays Education
The Award for Digital Innovator of the Year, supported by Nord Anglia Education
The Award for Making a Difference – Secondary School of the Year, supported by Pixl
The Award for Teacher of the Year in a

Secondary School, supported by Nord Anglia Education

The Award for Making a Difference – Primary School of the Year, supported by Pixl
The Award for Teacher of the Year in a

Primary School, supported by Randstad

The Award for Lifetime Achievement supported

by DfE, supported by DfE

The Award for Teaching Assistant of the Year
The Award for Outstanding New Teacher of

the Year, supported by DfE

The Award for Impact through Partnership
The Award for Unsung Hero of the Year
The Award for Early Years Team of the Year, supported by DfE