Health and Social Care students have been volunteering at Russells Hall Hospital to boost their skills and experience. 
The College has a new partnership with Russells Hall Hospital which is giving students the chance to experience life on the wards. Sabah Ahmed helps out on the Vascular Ward (B3) where she helps patients during breakfast and meal times, serves drinks, and cleans.
Sabah said, "A lot of the time I talk to the patients and get to know them to cheer them up. I like to keep a smile on my face and help everyone out as this is my passion.
"My future plan is to become a Consultant Paramedic, where I can be responsible for helping individuals in different situations."
Another one of the College's hospital volunteers, Cameron Wood helps out on the AMU2 ward. He collects lunch orders and does tea rounds for patients. Cameron said, "I love talking to patients, hearing their stories and giving them a friendly face to talk to."
Sarah Hale, Health and Social Care Placement Officer at Halesowen College, said: "This is such a valuable opportunity for our students and will help them in their future careers. 
"They have all settled in really well and love spending time with the patients and looking after them." 
Both students are aged 17. Sabah is from Halesowen and is a former pupil of Earls High School and Cameron is from Kingswinford and is a former pupil of Summerhill School.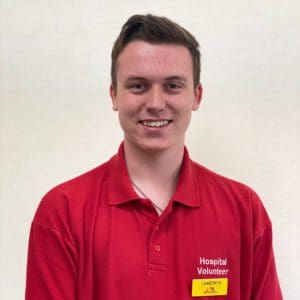 Ends 
For more details please contact Stacie Boswell on 0121 602 7777.